Conference Cast Connect
Conference Cast is a patented, cloud-based platform that streamlines and simplifies conference calls and webcasts for your business. One integrated solution provides you with more features and more control to deliver flawless events at a fraction of the cost. Conference Cast is where innovation meets with significant cost savings.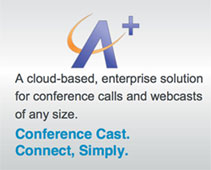 ---
Get to Know Conference Cast Connect
Scalable, Fully-Managed or Self-Service Events On-Demand
With a click of a button, Conference Cast enables you to schedule conference calls and webcasts for ten to tens of thousands of participants. There are no multi-step booking processes or headaches associated with coordinating multiple vendors. Conference Cast's browser-based solution has everything you need. The audio conference bridge, Q&A management console, slides, registration, media clip library, and online event stream, it's all integrated.
FEATURES
Book events anytime, anywhere through a simple, web-based console
Eliminate concerns regarding capacity planning and scale to meet real-time attendance
Experience the ultimate in flexibility and control—from fully-managed solutions to simple self-service options
Enhance Audience Participation and Experience
The Conference Cast platform makes it easy for you to reach your audience anytime, anywhere—on the phone or online.
FEATURES
Cost-effective domestic and international toll and toll-free dial-in options for attendees
Simple and secure Universal PIN code access eliminates hold times and enhances data quality for attendees
Online streaming to tens of thousands with no downloads required
Secure streaming on any web-enabled devices (iOS, Android, etc.)
Avoid bandwidth bottlenecks with MP3 streaming solution
---
Simple, Secure Syndication and Sharing
The Conference Cast platform offers a wide range of highly-scalable live and on-demand publishing options that are secure enough for internal communications yet flexible enough to publish via mobile and social media.
FEATURES
Configurable, branded players that can be embedded on any website
Secure, fully-customizable event registration and landing pages
One-click social media syndication
Archives and downloads immediately available for on-demand playback
Management and Reporting
Through one streamlined online console, you can manage all of your conference calls and webcasts. Easily schedule events, customize registration forms and preferences, publish event pages, and access robust event reporting for call-in and online participants.
FEATURES
Schedule, manage and promote your events easily through browser-based console
Easily generate customizable registration forms
Manage, edit, and share on-demand recordings immediately after the event
Access in-depth and accurate event reporting and analytics on audio and web participants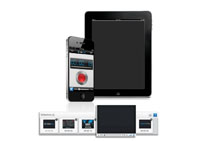 "In recent years we have seen limited innovation in the operator-managed conferencing space. The Conference Cast platform has entered this space with an impressive new cloud-based solution for enterprise conferencing and webcasting. Conference Cast's platform integrates a telephony infrastructure with the web, delivering a solution for event-based communications with more features and functionality at a significantly lower price point than other services. It helps enterprise customers streamline and simplify event production and management at all stages of the process."
Marc Beattie, Senior Analyst and Managing Partner, Wainhouse Research
Quick Quote Request
Vertical Industry Videos
---